Biography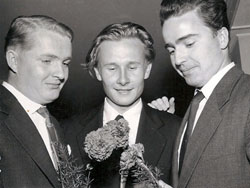 Veijo Varpio, tenor, was born in Kotka/Finland in 1928. After his graduation from Lyceum he studied law in the University of Helsinki.
Veijo Varpio studied singing with Arvo Vainio, Poul Hansen, Ettore Campogalliani and Francesco Carino. He sang in the choir of the opera in Helsinki 1949-52 and was a soloist at Finnish National Opera Helsinki 1956-59. In the same year he got a contract to the opera of Lübeck/Germany. From there he changed to Opera Wuppertal in 1960 and to Deutsche Oper am Rhein Düsseldorf until 1969. Then he worked as a free lancer with short and long term contracts in Germany and Europe.
At Savonlinna Opera Festival Veijo Varpio worked 1969-70, 1974-75 and 1995-96. After singing in about 60 different opera theaters for 19 years he returned to Finland in 1978 and became director of Savonlinna Opera festival until 1980 and then Director of Helsinki Festival 1980-94.
Veijo Varpio worked as the director of Helsinki Festival for 14 years. In this time the festival became one of the most interesting events for high culture.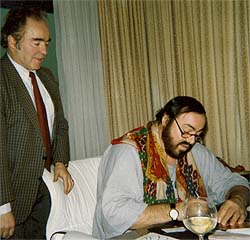 Varpio concentrated on presenting a program of classical music in high quality.
Guests at Helsinki festival had been Luciano Pavarotti, Zubin Mehta, Kiri te Kanawa, Jessye Norman, James Galway, and Claudio Abbado as superstars of classical music. Helsinki Festival had also ordered new music from many finnish composers.
When Varpio is asked about his greatest achievements, he mentions the exhibition of Ars Vaticana in 1982, the performance of Matthäus Passion with Staatsoper Hamburg in 1985, the Bartok Marathon 1981, the Night of the Arts, which was established during his time in addition to all the concerts with different star soloists.
After Helsinki Festival he created his own company, that brought finnish musicians to the concert halls of middle Europe and at the same time star soloists to Finland. In this new work his studies of law and good contacts from his time as an opera singer helped.
Concerts with his own company: Three Finnish Basses, Kathleen Battle, Luciano Pavarotti, Placido Domingo, The 3 Sopranos.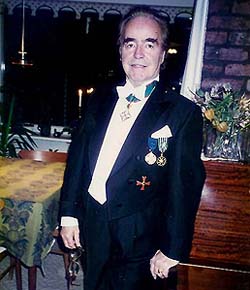 Veijo Varpio died in october 7th 2015 in Helsinki at the age of 87 years after a fulfilled and active life. The musical heritage of the family will be carried on from his children Marja-Leena Varpio (soprano and music teacher), Juha Varpio (pianist, composer, arranger of popular music), Kari Varpio (economist) has been concert producer and is now working in publishing business.

Varpio achieved for his work as an artist and manager for the arts honours:
Officier des orders et des lettres, France 1984
Commendatore dell'Ordine Al merito della Republica Italiana, Italy 1984
Verdienstkreuz 1.Klasse, federal Republic of Germany 1986
Knighti of the Finnish white rose 1.class 1994, Finland
Varpio's different memberships:
Member of Finland festivals society 1984-94 and speaker 1986-92
Member of European Festivals Society 1984-94
Member of program consulting company of MTV Finland
Member of the Ministery of Culture Development of the Century 1988-90


Student of the Year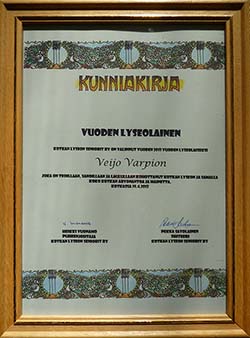 The Seniors of Kotka Lyseo School have elected as Student of the Year 2013:

Veijo Varpio

who has approved with his deeds, his words and his singing the reputation and recognition of Kotka Lyseo and the city of Kotka.
Heikki Vuonamo, Head of Kotkan Lyseon Seniorit RY
Pekka Savolainen, secretary
A Tenor in the Night of the Arts and in Daytime (Edita Helsinki)
In his biography book Veijo Varpio tells in a funny way about his childhood in his birthtown Kotka and his studies in Helsinki. After winning a tenor competition Veijo Varpio had a contract as tenor soloist at Finnish National Opera Helsinki. Then he worked as an operasinger in Germany for 19 years and sang in more than 60 theaters. After coming back to Finland he worked as director of Savonlinna Festival. Then he was nominated director of Helsinki festival and retired in 1994.
The readers become aware of the many problems and surprises that show the development of a choirboy from Kotka and student of law to an international opera singer and festival director.
Theatres where Veijo Varpio was engaged
Akateeminen Oopperateatteri, St. Petersburg
Bad Hersfelder Festspiele
Badisches Staatstheater Karlsruhe
Bayerische Staatsoper München
Bremer Theater
Bühnen der Hansestadt Lübeck
Bühnen der Landeshauptstadt Kiel
Bühnen der Stadt Bielefeld
De Nederlandse Opera Amsterdam
Deutsche Oper am Rhein Düsseldorf
Deutsche Oper am Rhein Duisburg
Deutsche Oper Berlin
Eutiner Sommerspiel, Oper im Schlosspark
Fürstbischöfliches Opernhaus Passau
Gran Teatro del Liceu Barcelona
Staatsoper Hamburg
Hessisches Staatstheater Wiesbaden
Komische Oper Berlin
Kotkan Kaupunginteatteri
Landestheater Detmold
Landestheater Linz
Landestheater Salzburg
Landestheater Württemberg-Hohenzollern Tübingen
Magyar Allami Operahuz Budapest
Mecklenburgisches Staatstheater Schwerin
Musiktheater im Revier Gelsenkirchen
Nationaltheater Mannheim
Niedersächsisches Staatstheater Hannover
Oper der Stadt Bonn
Oper der Stadt Köln
Opera Forum Enschede
Opera National Brüssel

Operan Kunigliga Teatern Stockholm
Saarländisches Staatstheater Saarbrücken
Savonlina Opera Festival
Staatstheater am Gärtnerplatz München
Staatstheater Braunschweig
Staatstheater Darmstadt
Staatstheater Kassel
Staatstheater Stuttgart
Stadttheater Klagenfurt
Stadtheater Lindau
Stadttheater Luzern
Stadttheater Aachen
Stadttheater Giessen
Städtische Bühnen Augsburg
Städtische Bühnen Dortmund
Städtische Bühnen Münster
Suomen Kansallisooppera Helsinki
Teatro di Verdi Trieste
Theater der Stadt Frankfurt
Theater der Stadt Heidelberg
Theater der Stadt Remscheid
Theater des Westens Berlin
Theater Hagen
Theater Oberhausen
Theater und Philharmonie Essen
Tiroler Landestheater Innsbruck
Ulmer Theater
Vereinigte Bühnen Graz
Vereinigte Städt.Bühnen Mönchengladbach
Vereinigte Städt. Bühnen Krefeld
Wiener Volksoper
Wuppertaler Bühnen